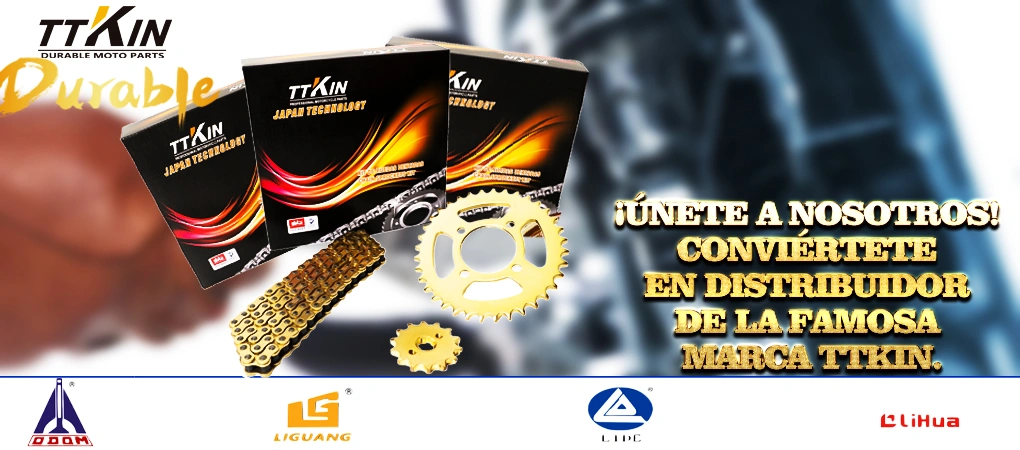 Construction and installation of motorcycle chains
The motorcycle transmission mechanism is mainly divided into three types: transmission p
or
motorcycle chain
, belt drive and shaft drive. Among them, chain drive is the most widely used because of course it has many advantages (small power loss, high tensile strength, suitable for high-speed driving, suitable for modification , relatively low cost)
Analysis of the basic structure of the chain
In simple terms, we can think of the
motorcycle chain
como la estructura conjunta del modelo de bala de acero, que se compone de piezas de cadena, bujes y rodillos que están escalonados por dentro y por fuera. Los pasadores pasan por el medio para conectarse, de modo que la cadena tiene un solo vector de movimiento.la naturaleza.Esta es la estructura de la cadena, que afecta la transmisión de potencia y la suavidad de la cadena a través de otros componentes.La precisión de la cadena tiene un impacto crucial en la eficiencia e incluso en la seguridad del vehículo.Los modelos de motorcycle chain más habituales son:
428 motorcycle chain, 428h motorcycle chain, 520 motorcycle chain, 520h motorcycle chain,
etc.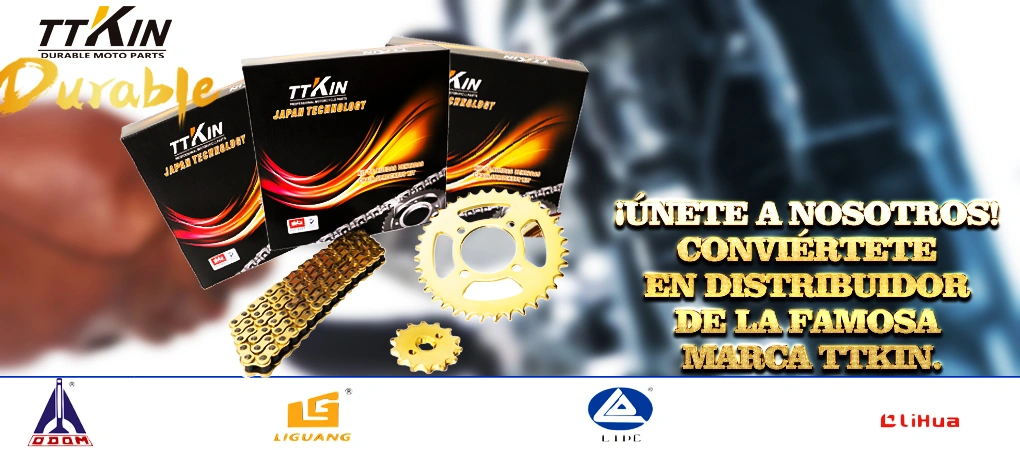 Chain Installation
A
motorcycle chain
new unpackaged will use a factory slipknot, oil seal and chain oil. (Expansion type or snap type, in order to ensure the strength, expansion type buckle has become the mainstream)
.Generally, the length of the chain for sale is 120 lengths, which is enough for most vehicles, but not too short (need to confirm the chain model and the number of lengths of the model before purchasing); The length of the chain must be confirmed before cutting. It cannot be restored if it is cut, ¡así que tenga cuidado!A vez que se determina la longitud y se corta el exceso, la cadena está lista para sujetarse con los clips equipados. Antes de insertar el pasador del eje, recuerde aplicar la grasa lubricante configurada y recuerde instalar el sello de aceite, un total de 4 sellos de aceite.Instale la cadena en su sitio con una herramienta especial.Después de instalar la cadena, ajuste la longitud elástica de la cadena; primero afloje el ajustador de la cadena y luego muévalo a una distancia adecuada, prestando atención a mantener las escalas en ambos lados consistentes. Use el par correspondiente para fijar firmemente el eje trasero y fije los tornillos de los ajustadores ambos lados por fin.
What
motorcycle parts suppliers
,
TTKIN
.
Over the years, we have established long-term cooperative relationships with many major
factory of motorcycle parts
of the industry.
including
LIHUA, DA DONG VALVE, LIDE, LIGUANG
,
etc.
We have been providing high quality and durable products to the
importer of motorcycle parts
, and customers have trusted us for 15 years.