the body of the

camshaft

it is a cylindrical rod of the same length as the bank of cylinders. Several cams are placed at the top to actuate the valves. One end of camshaft is the fulcrum of the bearing and the other end is connected to the drive wheel. The sides of the cam are egg-shaped. The purpose of its design is to ensure that the cylinder is completely intake and exhaust, specifically to complete the opening and closing of the valve in the shortest possible time. In addition, considering the durability of the engine and the smoothness of operation, the valve can not be caused by the acceleration and deceleration process in the opening and closing action to produce too much impact, otherwise it will cause serious valve wear. , increased noise or other serious consequences. Therefore, cam and engine power, torque output and smooth operation have a very direct relationship. In general, in inline engines, one cam corresponds to one valve, and in V engines or horizontally opposed engines, one cam is shared for every two valves. Rotary engines and valveless gas distribution engines do not require cams due to their special structure.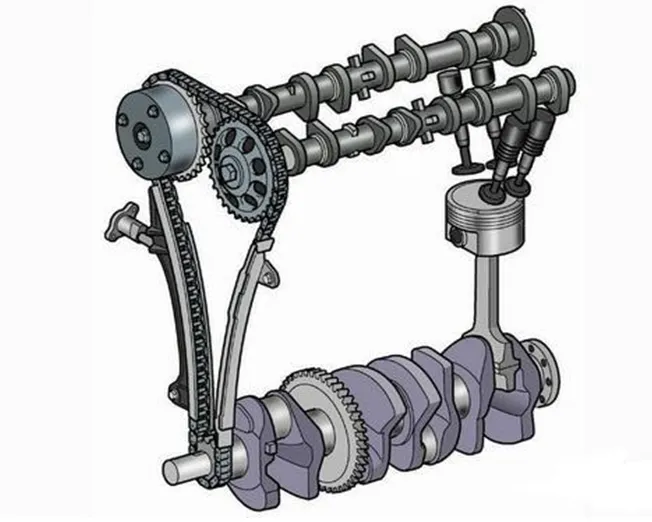 Related introduction:

Un camshaft es un componente de un motor de pistón. Su función es controlar la apertura y el cierre de las válvulas. Aunque la velocidad del camshaft en un motor de cuatro tiempos es la mitad que la del cigüeñal (en un motor de dos tiempos, la velocidad del camshaft es la misma que la del cigüeñal), pero generalmente su velocidad sigue siendo muy alta y necesita soportar mucho par, por lo que el diseño del camshaft en términos de resistencia y requisitos de soporte son muy altos, su material es generalmente hierro fundido especial, ocasionalmente usando forjas. Dado que las reglas de movimiento de la válvula están relacionadas con la potencia y las características de funcionamiento de un motor, el diseño del camshaft ocupa una posición muy importante en el proceso de diseño del motor.

Sort out:

De acuerdo con el número de árboles de levas, se puede dividir en dos tipos: camshaft en cabeza simple (SOHC) y doble camshaft en cabeza (DOHC). Un solo camshaft en cabeza es un camshaft y un doble camshaft en cabeza es de dos. Un solo camshaft en cabeza con un camshaft en la culata, acciona directamente las válvulas de admisión y escape, tiene una estructura simple, adecuada para motores de alta velocidad. En el pasado, el camshaft lateral, es decir, el camshaft estaba en el lado del cilindro y era accionado directamente por el engranaje de distribución. Para transformar la rotación del camshaft en el movimiento alternativo de las válvulas, se debe utilizar el grifo de la válvula para transmitir la potencia. De esta manera, hay más partes para el movimiento alternativo, y la masa de inercia es grande, lo que no es propicio para el movimiento de alta velocidad del motor. Además, el tappet delgado tiene una cierta elasticidad, que es fácil de causar vibración, acelerar el desgaste de las piezas e incluso hacer que la válvula pierda el control. Los árboles de levas dobles en cabeza son dos árboles de levas montados en la culata, uno para accionar la válvula de admisión y el otro para accionar la válvula de escape. El uso de árboles de levas dobles en cabeza no requiere un alto diseño de árboles de levas y resortes de válvulas, y es particularmente adecuado para cámaras de combustión hemisféricas en configuraciones en forma de válvula en forma de V, y también es fácil de usar con mecanismos de distribución de gas de cuatro válvulas.

Fault analysis and common causes:

Common camshaft failures include abnormal wear, abnormal noise and fracture, and abnormal noise and fracture are often preceded by symptoms of abnormal wear.
(1) El camshaft está casi ubicado al final del sistema de lubricación del motor, por lo que la condición de lubricación no es optimista. Si la bomba de aceite es insuficiente presión de suministro de aceite debido a un tiempo de uso excesivo, o el canal de aceite lubricante está bloqueado para que el aceite lubricante no pueda llegar al camshaft, o el par de apriete del perno de apriete de la cubierta del rodamiento es demasiado grande, el aceite lubricante no puede entrar en la holgura del camshaft, lo que causará un desgaste anormal del camshaft.
(2) El desgaste anormal del camshaft conducirá a un aumento en el espacio entre el camshaft y la carcasa del rodamiento, y el desplazamiento axial ocurrirá cuando el camshaft se mueva, lo que resultará en un ruido anormal. El desgaste anormal también puede conducir a un aumento en el espacio libre entre la leva de accionamiento y el tappet hidráulico, lo que puede causar un impacto cuando la leva se combina con el tappet hidráulico, lo que resulta en un ruido anormal.
(3) El camshaft a veces tiene fallas graves, como roturas, las razones comunes son la rotura del tappet hidráulico o el desgaste grave, la lubricación grave, la mala calidad del camshaft y la ruptura del engranaje de distribución del camshaft.
(4) En algunos casos, la falla del camshaft es causada por causas humanas, especialmente cuando se repara el motor, el camshaft no se desmonta correctamente. Por ejemplo, al desmontar la cubierta del cojinete del camshaft, se golpea fuertemente con un martillo o se aprieta con una cinta de cambio, o se instala la posición incorrecta cuando se instala la cubierta del rodamiento, lo que resulta en un desajuste entre la cubierta del rodamiento y la carcasa del rodamiento, o el par de apriete del perno de apriete de la cubierta del rodamiento es demasiado grande. Al montar la cubierta del rodamiento, preste atención a la flecha de dirección y al número de posición en la superficie de la cubierta del rodamiento, y use una llave dinamométrica para apretar los pernos de apriete de la cubierta del rodamiento en estricta conformidad con el par especificado.