Advantages of TTKIN
The brand
TTKIN
 has been established since 2008, has been deeply cultivated in the industry of
motorcycle spare parts
 for 15 years.TTKIN has participated in the Canton Fair many times and has accumulated very rich experience in trade and export.TTKIN has 208 models and 22,800
items of
motorcycle parts
, que pueden coincidir con los accesorios requeridos por los clientes en la primera vez,Como exportador de proveedores de motorcycle spare parts al mayor, TTKIN cuenta con un equipo de ventas profesional para proporcionar a los clientes la experiencia de servicio más profesional.
Customer Support
TTKIN
search
actively distributors,
d
distributor like ours
motorcycle accessories importer,You can enjoy the personalized service of TTKIN professional sales team for each customer,At the same time, we strictly control the production of each product to ensure product quality,For the products, one inspection can be done Each and every step of the process from products to customers is strictly controlled. We have our own forwarder, which perfectly solves the problem of product transportation.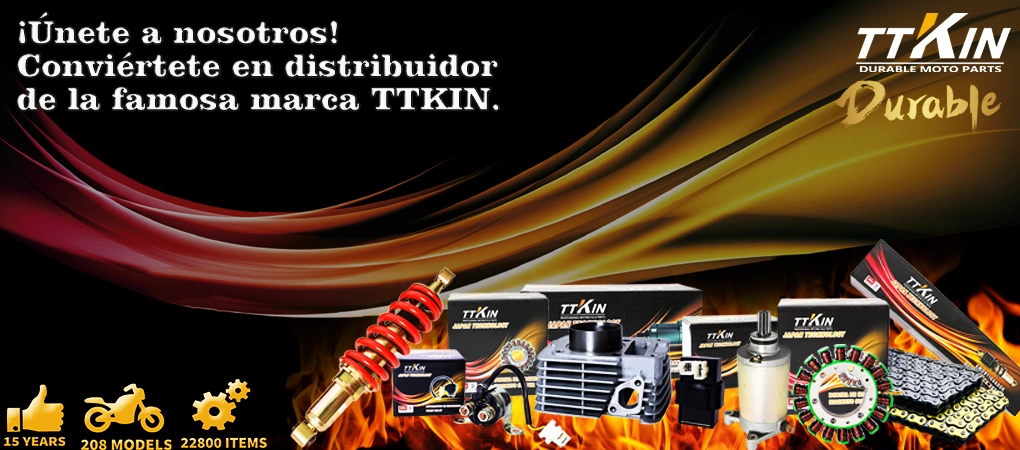 The advantages of cooperation
P
First, We constantly update our product packaging, Improved packaging not only better protects our products, but also attracts more customers' attention to our products. Second, we also have a large number of advertising styles to provide our customers free advertising activities. In order to achieve the effect of selling the product. Third, we have official websites and social media accounts to promote our customers' products for free and help our customers attract traffic to offline stores .Finally, we have a professional after-sales team to deal with product after-sales problems. For product after-sales problems, we can always guarantee that we provide after-sales solutions in the first time to solve customers' purchase concerns.
Has a large C-end and small B-end customer base
The brand TTKIN ha acumulado muchos clientes leales en Sudamérica desde su creación hace 15 años.Y con la apertura del sitio web oficial de TTKIN y las
social media accounts
, more and more new customers are coming to inquire and pay attention to our products. Therefore, we have accumulated a larger C-end and small B-end customer base, We will recommend our local dealers based on the location of new customers to promote sales of distributors' products.
Por lo tanto, estamos searchndo distribuidores y esperamos que se unan
!