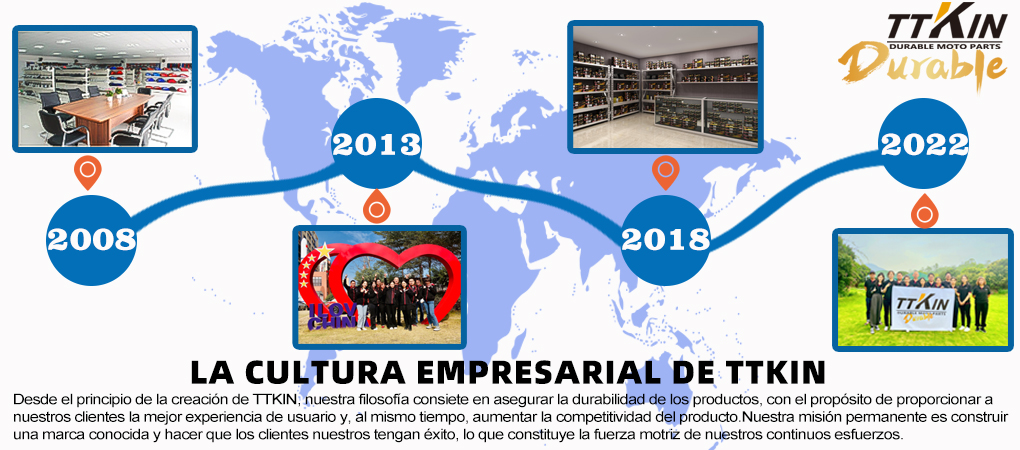 TTKIN's corporate culture
It is well known that a good image is indispensable for the success of a brand
, and
 TTKIN
 is no exception
. After 15 years in the business world, our motorbike parts brand
TTKIN
 has also developed its own distinctive identity and gradually built up a rich
corporate
culture.
Since the beginning of TTKIN's establishment, our philosophy has been to ensure the durability of products, aiming to provide our customers with the best user experience and, at the same time, increase product competitiveness. This has helped us to achieve recognition among our customers.
Our
permanent
 mission is
"
Make you succeed and famous
"
, which is the driving force behind our continuous efforts.
Our values are:
Integrity: honesty, pragmatic work, customer first;

Responsibility: sense of duty, sincere attitude, clear execution;

Innovation: entrepreneurial spirit, innovative learning, continuous improvement;

Health: stable development, unity and kindness, optimism.  
The vitality of TTKIN  
T
he p
eople and
the
compan
y
 complement each other. TTKIN's success would not have been possible without a team of the best in the industry. Our professionalism is the soul of TTKIN, and our passion and enthusiasm give it life. We learn, we
 make
 progress and we will continue to
achieve
higher goals together
 with TTKIN
.
Apart from an excellent team, the importance of
 the
 partners should
n
't be ignored
 either
. Over the years, we have created a close bond with our customers. A
long
 with dedicated entrepreneurs in the motorcycle industry, we are committed to building a dynamic and continuously growing sales market for TTKIN. We travel
 around
 the world with containers full of TTKIN motorbike parts, bringing high quality products to customers world
wide
 and showing them the charm of the TTKIN brand.